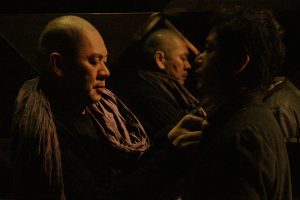 Tsai Ming Liang is a Malaysian Chinese filmmaker. He has written and directed 10 feature films and has also directed many short films and television films. Tsai is one of the most celebrated "Second New Wave" film directors of Taiwanese cinema. His films have been acclaimed worldwide and have won numerous film festival awards.
Filmography:
Features
2013 : Stray Dogs
2009 : Face
2006 : I Don't Want to Sleep Alone
2005 : The Wayward Cloud
2003 : Goodbye, Dragon Inn
2001 : What Time Is It There?
1998 : The Hole
1997 : The River
1994 : Vive L'Amour
1992 : Rebels of the Neon God
Shorts
2015 : No No Sleep
2014 : Journey to the West
2013 : Xing Zai Shui Shang
2012 : Diamond Sutra / Sleepwalk
2012 : No Form
2008 : Madame Butterfly  – part of the Lucca Film Festival project "Twenty Puccini"
2002 : The Skywalk Is Gone
2001 : A Conversation with God
2001 : Fish, Underground
Documentaries
2015 : Afternoon
2008 : Sleeping on Dark Waters